Stormbreaker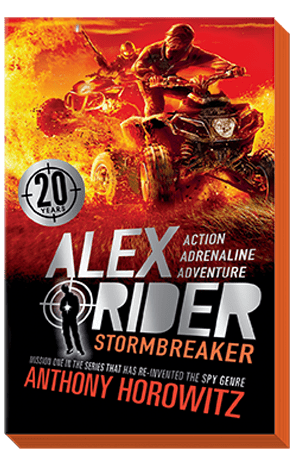 When MI6 recognizes his potential, Alex Rider is armed with secret gadgets and sent on his first mission. But the teenage spy soon finds himself in mortal danger.
Now available as a special 20th anniversary edition, featuring an exclusive chapter from Alex's new mission, Nightshade.
Reviews
Explosive, thrilling, action-packed — meet Alex Rider.
The Guardian
The series that has re-invented the spy genre.
Independent
A fantastic start to an amazing series... I defy anyone to stop at book one.
Sam, aged 11, lovereadingforkids.co.uk
This series of books is a must read for anyone over the age of 9 who likes spy stories, gadgets and danger. Best books ever!
Tomasz, aged 9, lovereadingforkids.co.uk